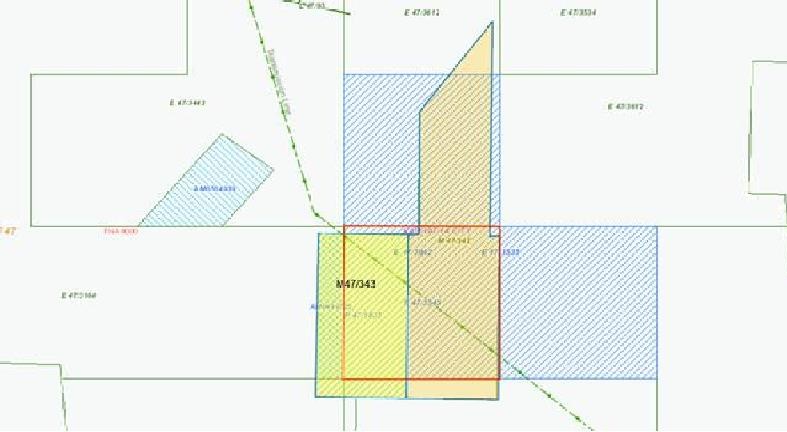 I thought this may be of interest, a recent Warden Courts hearing KML v Jindalee [2018] WAMW 17, and the circumstances surrounding Elizabeth Hill tenements which demonstrates priority of tenure in an Application for Forfeiture.
8/6/2016 – KML made an application for forfeiture on M47/343 held by Global Strategic Metals NL (shown in yellow in the above map)
4/8/2016 – Global surrendered M47/343 and E47/2472 (the 3 blocks highlighted)
5/8/2016 – Jindalee made a 3blk application E47/3535 over the same area
8/9/2016 – Jindalee applied for P47/1833 over the area of M47/343 (shown in yellow)
18/8/2016 – KML, because it has prior right (see explanation below), applied for E47/3545 (shown as the red square)
22/9/2016 – Jindalee objected to KMLs application E47/3545
22/7/2017 – KML applied for E47/2472 over the same 3 blocks as E47/3535
The Warden dismissed the Objection because KML's E47/3545 has priority to application due to s100(1) of the Mining Act that states:
…[A] mining lease that is the subject of an application for forfeiture under section 98 is surrendered …the applicant for forfeiture has, from the date on which the surrender is registered until the expiry of a period of 14 days after the date of being served with written notice of the surrender by an officer of the Department,
a right in priority to any other person to mark out or apply for, or both, a mining tenement upon the whole or any part of the land that was the subject of the surrendered licence or lease .
This is despite Jindalee arguing that:
KML applied for land in excess of the surrendered area of M47/343 and must comply within the spatial extent;
KML was given right in priority to land outside the area of M47/343 and its application invalid;
Because, KML then has E47/3545 (the red block), Jindalee only can only be granted one out of the three blocks as the block are not contiguous. Which is why KML applied for E47/2472 who would be granted the other block.
Therefore, Jindalee's Objection was a long shot, but demonstrates an application under s100(1) is not limited spatially.
Jindalee also failed to recognise that once KML's E47/3545 was ruled a valid application Jindalee's E47/3535 would not be contiguous application and it would only be awarded one of the blocks. So KML applied for E47/2472 which will be granted the additional block Jindalee is not granted.
If there is a lesson in all this, make sure you know the Mining Act and Regulations before spending money.